Let's greet our friends & family members in a special way by sending them their favorite " Christmas Movie Quotes ". So, let's check out the list of 60 most Popular Dialogues now !
---
Christmas Movie Quotes
---
---
"Christmas is just about my favorite time. Ever since I was a little kid, I always felt like it was my own personal holiday." — Ernest Saves Christmas (1988)
---
"Seeing is believing, but sometimes the most real things in the world are the things we can't see." — The Polar Express
Related: 81 Best Inspirational Christmas Quotes ( 2020 )
---
---
"I believe, I believe. It's silly but I believe." — Miracle on 34th Street (1947)
Related: 77+ Popular Nightmare Before Christmas Quotes
---
"Christmas was on its way. Lovely, glorious, beautiful Christmas, upon which the entire kid year revolved." — Adult Ralphie from A Christmas Story" (1983)
---
"I will honor Christmas in my heart and try to keep it all the year." — A Christmas Carol (2009)
---
"It's Christmas Eve. It's the one night of the year when we all act a little nicer, we smile a little easier, we cheer a little more. For a couple of hours out of the whole year, we are the people that we always hoped we would be." — Scrooged (1998)
---
---
"Oh, Christmas isn't just a day, it's a frame of mind." — Miracle On 34th Street (1947)
---
"The best way to spread Christmas cheer is singing loud for all to hear." — Elf (2003)
Related: 231+ 'Funny Christmas Quotes' that you will Die of Laughter!
---
---
"That's what Christmas memories are made from. They're not planned; they're not scheduled. Nobody puts them in their blackberry. They just happen." — Deck The Halls (2006)
---
"And there were in the same country shepherds abiding in the field, keeping watch over their flock by night. And lo, the angel of the Lord came upon them, and the glory of the Lord shone round about them: and they were sore afraid. And the angel said unto them, 'Fear not: for behold, I bring unto you good tidings of great joy, which shall be to all people. For unto you is born this day in the City of David a Savior, which is Christ the Lord. And this shall be a sign unto you; Ye shall find the babe wrapped in swaddling clothes, lying in a manger.' And suddenly there was with the angel a multitude of the heavenly host, praising God, and saying, 'Glory to God in the highest, and on earth peace, goodwill toward men.'" — Linus Van Pelt from A Charlie Brown Christmas (1965)
Related: 131+ Sweetest Christmas Quotes for Love ( With Videos & Images )
---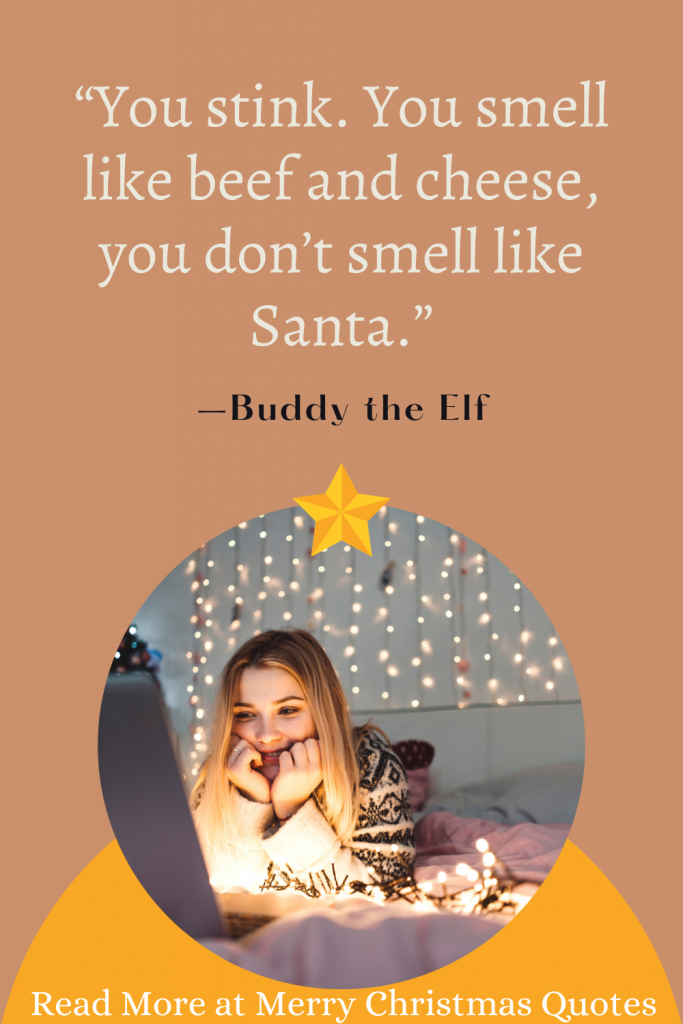 ---
"You stink. You smell like beef and cheese, you don't smell like Santa." –Buddy the Elf
---
We're kicking off our fun old-fashion family Christmas by heading out into the country in the old front-wheel-drive sleigh to embrace the frosty majesty of the winter landscape and select that most important of Christmas symbols." — Clark Griswold (Chevy Chase) "National Lampoon's Christmas Vacation" (1989)
---
---
"A sequel. That's it. We'll bring it out on March 25, and we'll call it … Christmas 2!" — B.Z. (John Lithgow) Santa Claus: The Movie" (1985 )
Related: 111+ Beautiful Christmas Quotes for Family ( 2020 Special )
---
"Rats. Nobody sent me a Christmas card today. I almost wish there weren't a holiday season. I know nobody likes me. Why do we have to have a holiday season to emphasize it?" — Charlie Brown from A Charlie Brown Christmas (1965)
---
Mayor: "How horrible our Christmas will be!"
Jack: "No… How jolly."
Mayor: "Oh. How jolly our Christmas will be!"
—(The Pumpkin King)The Nightmare Before Christmas (1993)
---
---
"I don't think anyone would criticise us for laying down our rifles on Christmas Eve." — Joyeux Noël (2005).
---
"There's children throwing snowballs,
Instead of throwing heads.
They're busy building toys,
And absolutely no one's dead!"
— The Nightmare Before Christmas (1993)
Related: 151+ Holy Bible Quotes for Christmas
---
---
"I planned out our whole day: First, we'll make snow angels for two hours, and then we'll go ice skating, and then we'll eat a whole roll of Toll-House cookie dough as fast as we can, and then we'll snuggle." — Buddy, Elf
---
---
"Faith is believing in things when common sense tells you not to." — Doris Walker, Miracle on 34th Street
---
"Isn't there anyone who knows what Christmas is all about?" — Charlie Brown, A Charlie Brown Christmas
---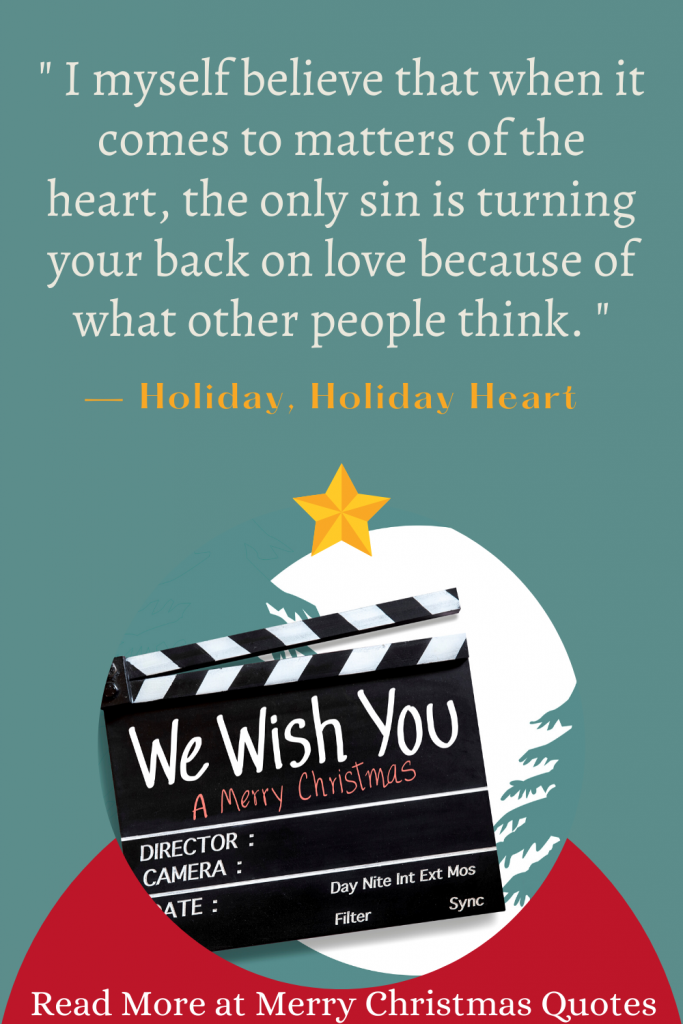 ---
"I myself believe that when it comes to matters of the heart, the only sin is turning your back on love because of what other people think. "— Holiday, Holiday Heart
---
"It's Christmas Eve and we are going to go celebrate being young and being alive." — Miles, The Holiday
Related: Best 27+ Short Christmas Quotes with Hd Images ( 2020 )
---
---
"I'll just be hanging around the mistletoe, waiting to be kissed." — Mia, Love Actually
---
"You have such a pretty face, you should be on a Christmas card." — Elf
---
"Another crisis solved. Yeah, there sure are a lot here. Well, all families start to come together. We always get together at Christmas. Yeah, life would just pass in a blur if it wasn't for times like this." — A Muppet Family Christmas (1987)
---
---
"Yes! Yes I do! I like Christmas! I love Christmas!" — (Ebenezer Scrooge)A Christmas Carol (1938)
---
"Arthur! Christmas is not a time for emotion!" — Hugh Laurie in Arthur Christmas (2011)
---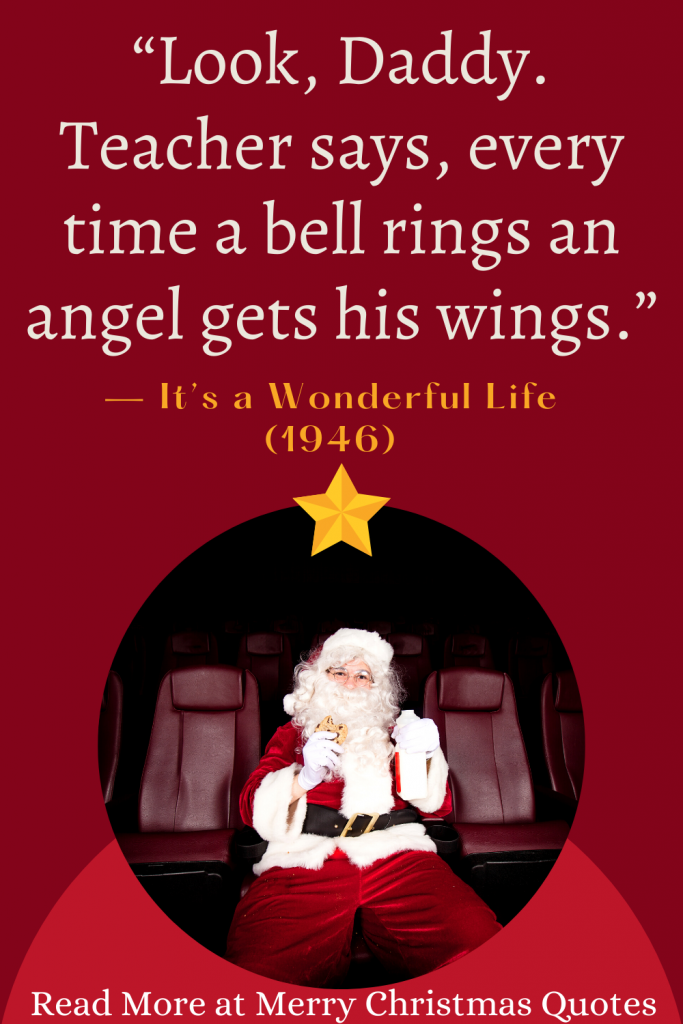 ---
"Look, Daddy. Teacher says, every time a bell rings an angel gets his wings." — It's a Wonderful Life (1946)
---
"This is extremely important. Will you please tell Santa that instead of presents this year, I just want my family back." — Home Alone (1990)
---
---
"If you look for it, I've got a sneaky feeling you'll find that love is actually all around" — Love Actually (2003)
---
"I never thought it was such a bad little tree. It's not bad at all, really. Maybe it just needs a little love." -A Charlie Brown Christmas (1965)
---
"Just remember, the true spirit of Christmas lies in your heart." -The Polar Express (2004)
---
" Nobody's walking out on this fun, old-fashioned family Christmas ". – Christmas Vacation
---
I planned out our whole day. First, we'll make snow angels for a two hours, then we'll go ice skating, then we'll eat a whole roll of Toll House cookie dough as fast as we can, and then we'll snuggle. – Elf
---
There's a certain magic that comes with the very first snow. For when the first snow is also a Christmas snow, well, something wonderful is bound to happen. – Frosty the Snowman
---
I never thought it was such a bad little tree. It's not bad at all really. Maybe it just needs a little love. – A Charlie Brown Christmas
---
---
And we're going to have the hap-hap-happiest Christmas. – Christmas Vacation
---
You'll shoot your eye out kid! – A Christmas Story
---
---
The world is what you make it. And it all starts with what you make of yourself. – Fred Claus
---
Merry Christmas you filthy animal. – Home Alone 2
---
---
Strange, isn't it? Each man's life touches so many other lives. When he isn't around, he leaves an awful hole, doesn't he? – It's a Wonderful Life
---
But for now, let me say. Without hope or agenda. Just because it's Christmas. And at Christmas, you tell the truth. To me, you are perfect. – Love Actually
---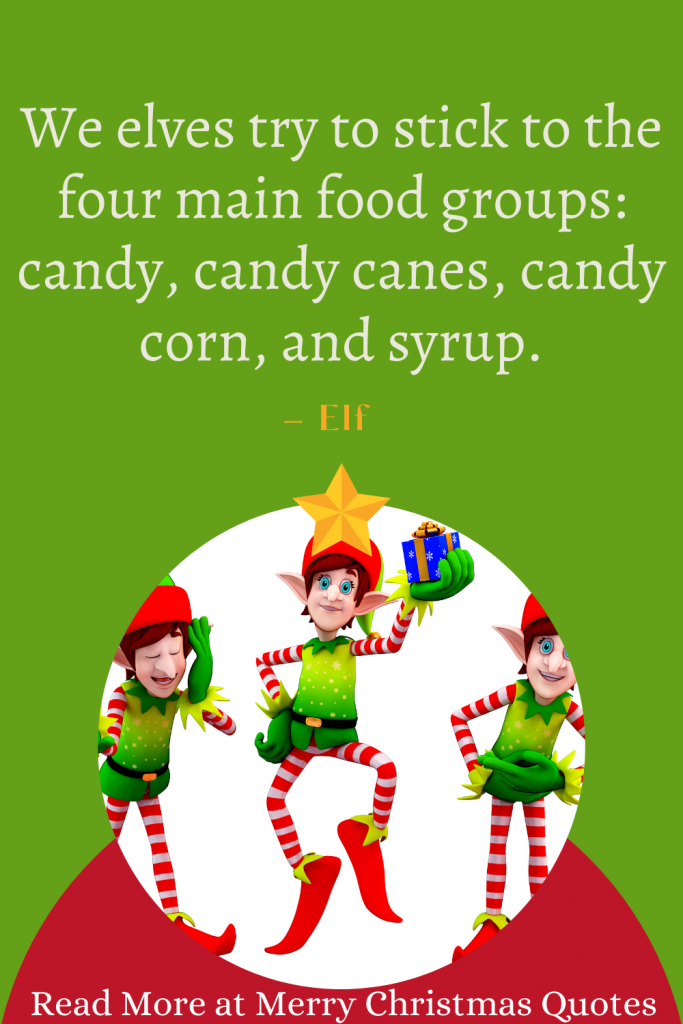 ---
We elves try to stick to the four main food groups: candy, candy canes, candy corn, and syrup. – Elf
---
---
Just remember, the true spirit of Christmas lies in your heart. – The Polar Express
---
It was the afternoon of Christmas Eve and Scrooge was conscious of a thousand odors, each one connected with a thousand thoughts and hopes and joys and cares long, long forgotten. – The Muppet Christmas Carol
---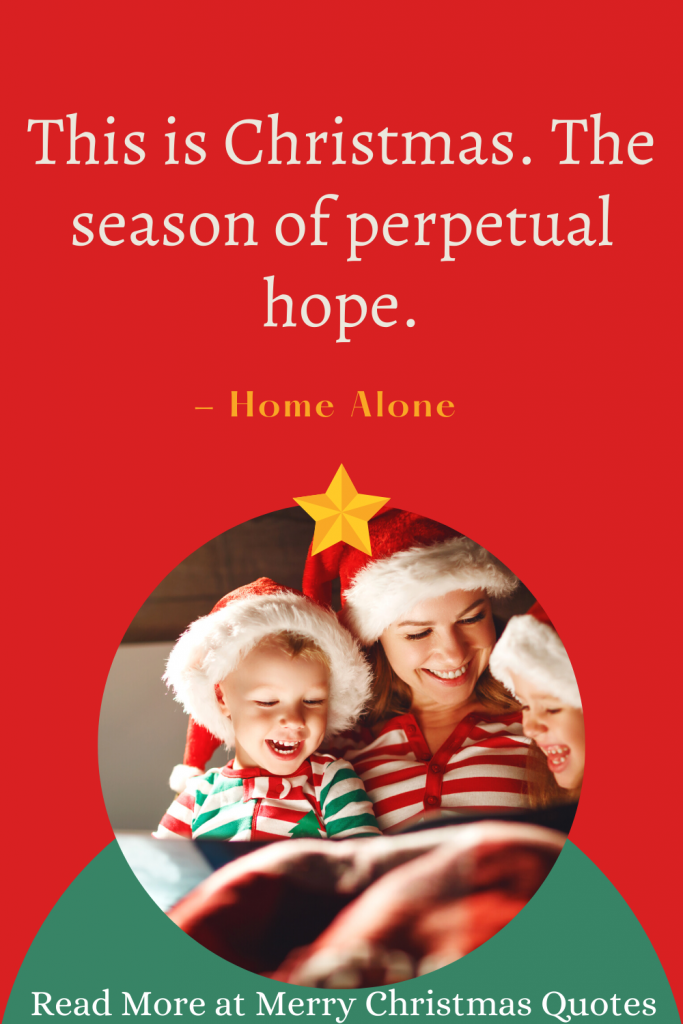 ---
This is Christmas. The season of perpetual hope. – Home Alone
---
Seeing isn't believing. Believing is seeing. – The Santa Clause
---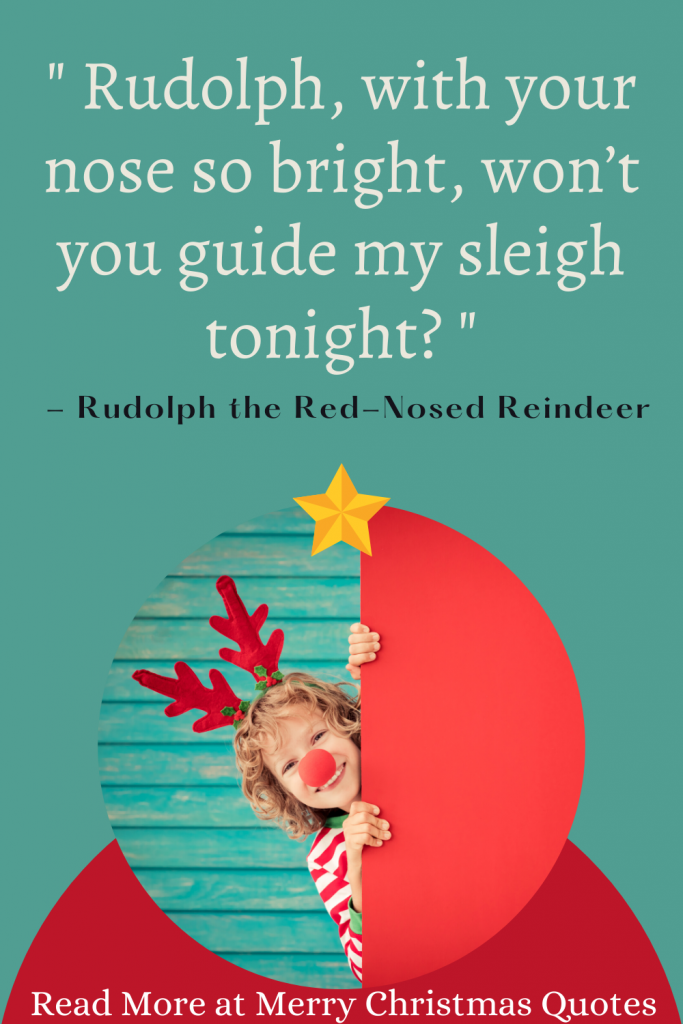 ---
Rudolph, with your nose so bright, won't you guide my sleigh tonight? – Rudolph the Red-Nosed Reindeer
---
I'll just be hanging around the mistletoe, hoping to be kissed. – Love Actually
---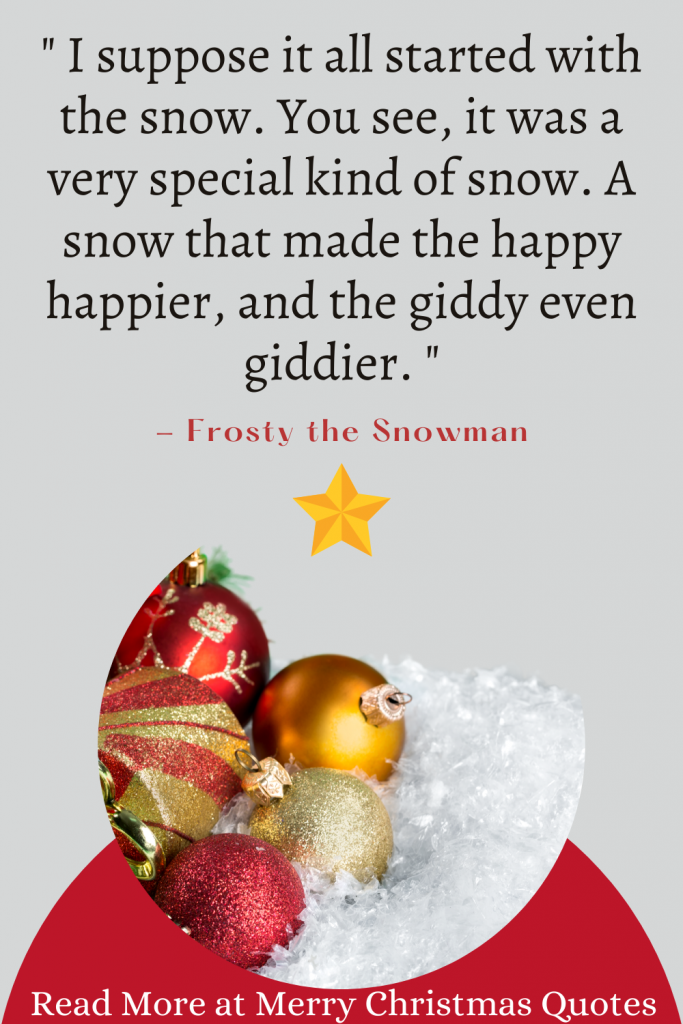 ---
I suppose it all started with the snow. You see, it was a very special kind of snow. A snow that made the happy happier, and the giddy even giddier. – Frosty the Snowman
---
It's Christmas Eve. A time of mystery, expectations, who knows what might happen. – The Nutcracker and the Four Realms
---
---
What if Christmas, he thought, doesn't come from a store. What if Christmas … perhaps … means a little bit more! – Dr. Seuss' How the Grinch Stole Christmas
---
I don't know what to say, but it's Christmas, and we're all in misery. – Christmas Vacation
---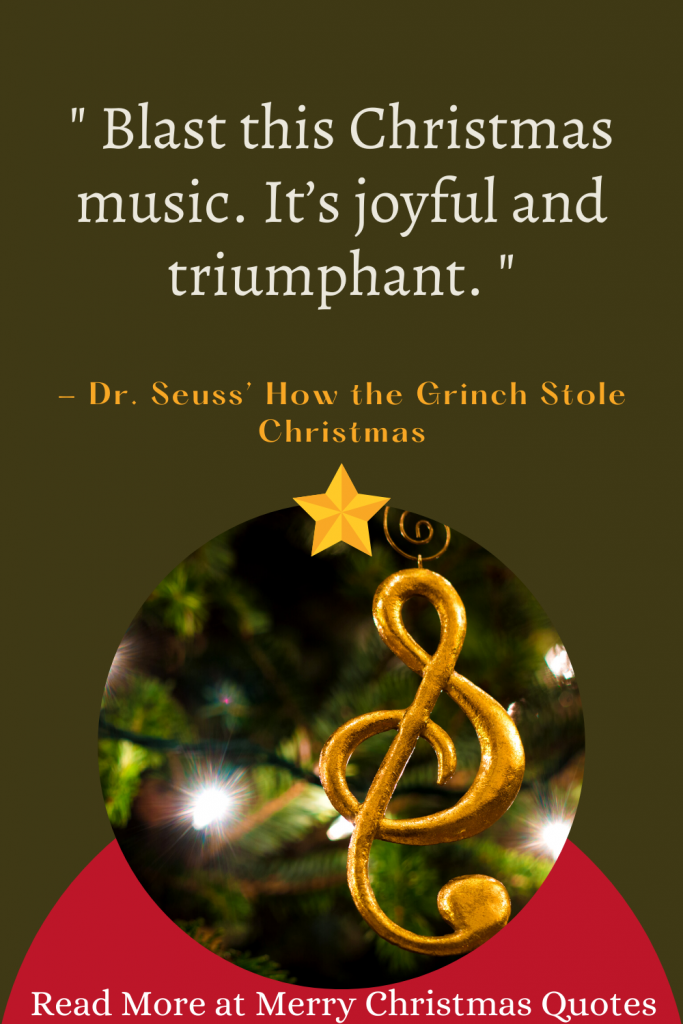 ---
Blast this Christmas music. It's joyful and triumphant. – Dr. Seuss' How the Grinch Stole Christmas
---
If you look for it, I've got a sneaky feeling you'll find that love is actually all around. – Love Actually
---
Well, in Whoville, they say that the Grinch's heart grew three sizes that day. – Dr. Seuss' How the Grinch Stole Christmas
---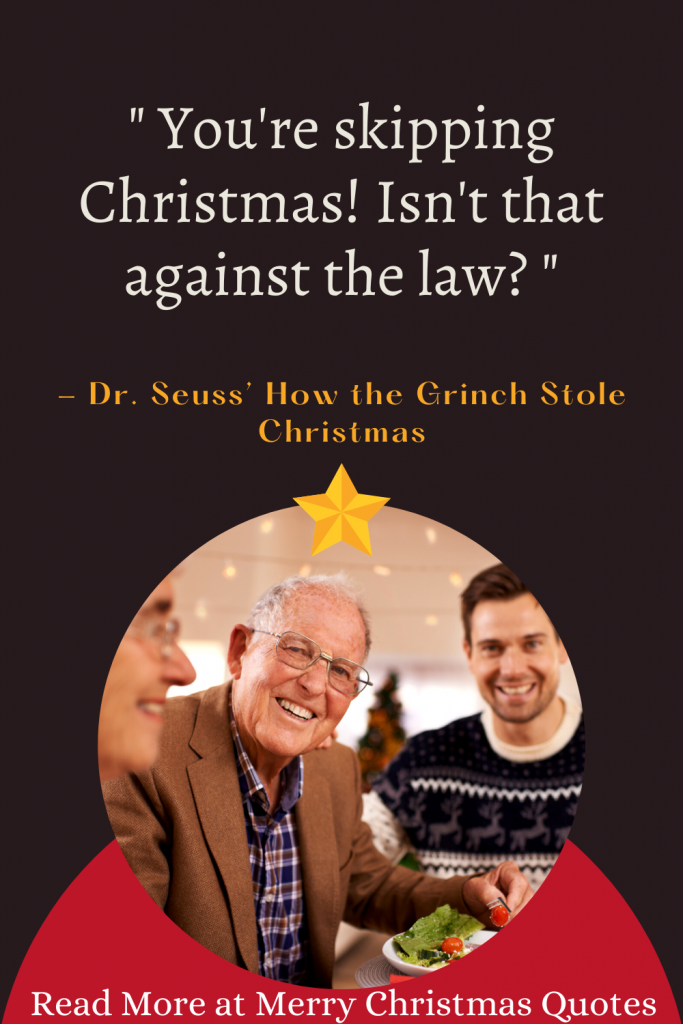 ---
You're skipping Christmas! Isn't that against the law? – Christmas with the Kranks
---